YESTERDAY
I didn't post yesterday as again I spent the day in bed feeling pretty unwell. We reflected on a few things over the day while in our little mud hut:
again how amazing it was to be here in such a family atmosphere
how much this place is involved in the community
how when we were putting the hampers together Mrs. Pastor she reminded us of many bible stories and where biblical names came from and who was married to who
Pretty much a quiet day in the house for me and then I went and had some dinner and went bed after laughing really hard with Nikki and Peta.
TODAY
So today Nikki and I split up for the first time since we had really been together :( Nikki spent the day here at MIA doing HIV testing and had a really special time with Mary/Carers/Dr/Sarah and the children. She said that there were times that nothing was said and silence filled the room awaiting results.  The children were so brave as they had their tests, there were a few screams, but nothing a kiss and a cuddle couldn't fix. The time was special and something that Nikki will not forget. 
While Nikki was at MIA I went into the village with some other volunteers and installed a water tank. It was a Grandma's (Sho Sho) house. We met the grandchild, Mercy, who watched us for the whole project.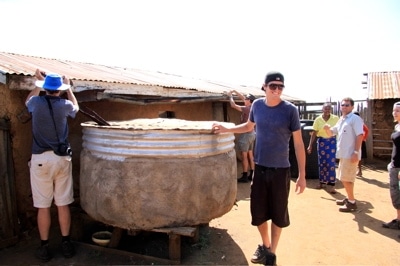 We began by removing the old guttering and facia from the old tank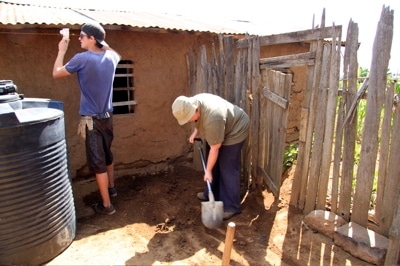 We removed an old timber platform in the location for the tank and also dig the base for the tank to sit on and also the hole for the bucket to be filled up in. At the same time we also made sure that the water run off on the block was diverted around the tank; a bit of civil infrastructure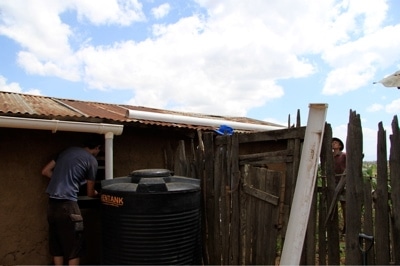 We connected the brackets for the gutters to sit on, with lots of help from John and Bill (??) making sure that they were level and fell into the tank. Gavin (a MIA volunteer who is also a plumber) made the final connections and also connected the tank to the guttering.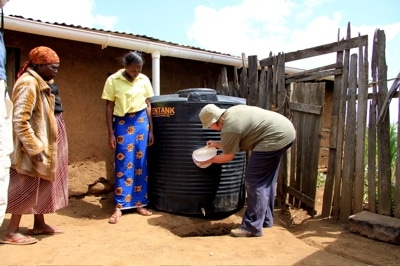 We connected everything up, added the MIA sticker to the front (this is a donation from someone). This is Mercy and her Sho Sho watching as I sticker their new tank.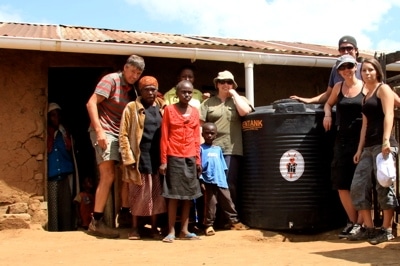 In all, about 3 hours later, a fully installed tank and donated tank from MIA into the local community.
I can say today was a great day. Another day that MIA has put it's fingers and roots into this community and village. Can't wait to see what tomorrow brings. It is sabbath here tomorrow so I can't wait for a rest and rejuvenation.
Lyn McDonald: Hi Di and 'team'
Have just got onto your website today (23/12/09) for the first time and thrilled to read about your "Tank Job" - another tank to GWUC's list.
You might like to hear that Meagan's "Tanks for Timor" is a real goer and certainly there will be enough money for that tank.
Your website SHOULD be mentioned in our Bulletin so that people can see/read what you are doing; it's only that Alex told me about it that I'm reading it.
Tell Russell to get it included in the Bulletin (if you'd like that).
I'll write a bit more in an email to you about "OTWT Outreach Group".
Best regards to you ALL.
Lyn