So yesterday it was Sabbath. I started the day with a little bit of reading, then we went and helped the children get ready for Sabbath school. Nikki and I came back after Sabbath school to cook a quiet breakfast. We have been savoring our time together because 9 others are coming soon and we really wanted to just spend some time together. Should just say that we have done some amazing things together and we will cherish moments together and how we have been given the chance to give.
Last night we were talking to Mary about Sabbath and 7th Day Adventist's. It is really interesting to think about a whole day just focused on God. That means everything from washing to business exchanges (buying anything) from sundown on Friday to sundown on Saturday. One of the good things though is that on Saturday's sometimes Ivan does bisquit's run. God's work on Sabbath Day, giving, is part of Sabbath.
Ivan got the car ready and as we waited in the driveway he told us a few things. We prayed for the children that we were about to meet. He prayed for their patience and also that they would not be too rowdy. We were soon to find out why - who could blame them, we were handing out free biscquits.  In Kenya, people pronounce this buscquit word as it is written. "BIS-QUIT" "BIS-QUIT" "BIS-QUIT" so as we went down the road the commotion started.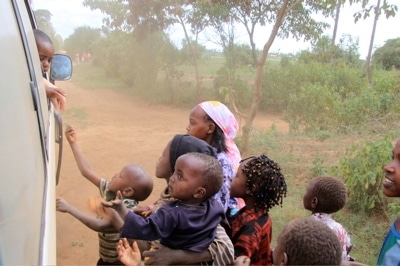 Our first "BIS-QUIT" handout - Nikki and Josh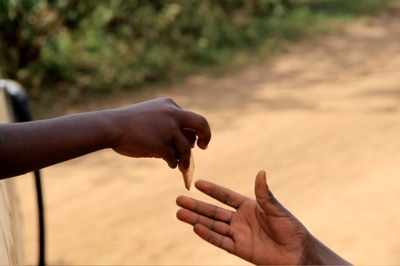 Isaac handing out a "BIS-QUIT"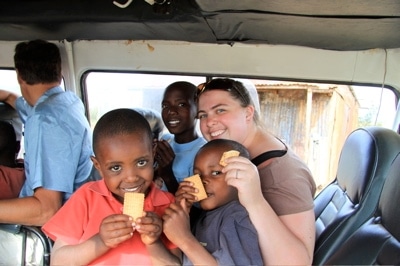 Me with Bonnie on my lap, Isaac under my arm and Josh in the red in front all with "BIS-QUITS"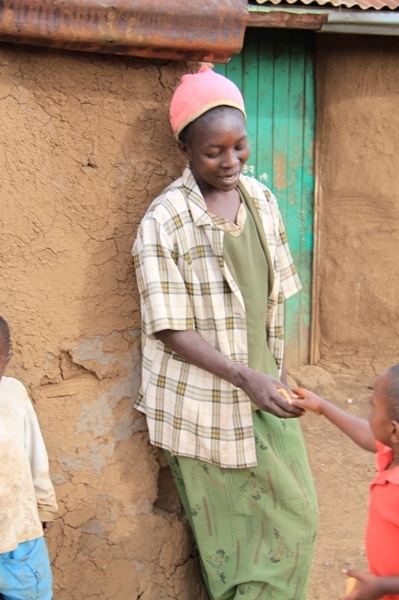 Josh handing out as we stopped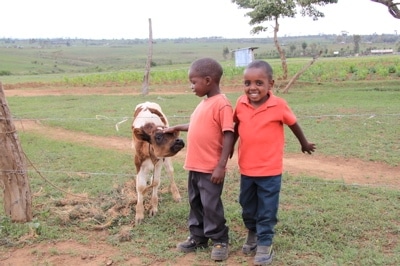 Franko and Josh with a baby calf at one of the stops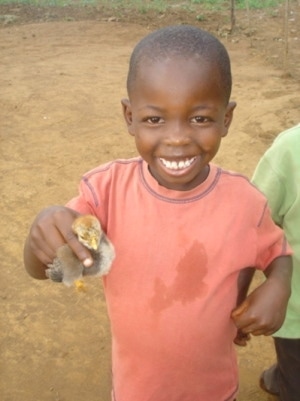 Franko with a chick at the stop
It is so important to note that as we drove through the village we saw so much of MIA in there. There were water tanks here and there and we stopped at the Maturi family, who were a family that suffered from multiple mental illness', Ivan and MIA had been able to get some money together to get them into a lockable home as the community were taking advantage of them. A very horrible story and so much better for having MIA in the community. The work of MIA stretches more than just visibly through this community. Ivan had people running to the front of the van to greet him with hugs, "my brother" one lady told us, another told us that "God was with us". This place is so much better off with MIA in the community. MIA give to their community as well as their children - thank you for that MIA. If people want to give to GIFTS IN ACTION I highly recommend that it will be money spent that you will see the rewards for, money that you can trust, delivery and love included.
In the evening we went into Nakuru for dinner and a boogie, needless to say this is Kenya, so the boogie came before the dinner - the dinner was late!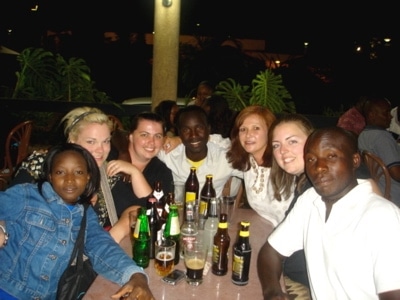 Left: Darma, Nikki, Me, Kennedy, Lorrene, Peta and Wesley
TODAY
Was a very quiet day. Nikki and I started in the kitchen early. To say that we peeled a potato is an understatement. We did about 100 and I will not appreciate more when I get home cooking for Russ and I, maybe we only eat 1 potato a meal - if that!
We headed into town to do some shopping for the arrival of our friends. We got some water, some welcome treats, and some decorations. We also went to the market and brought a few things - Nikki actually brought me a beautiful Christmas present - Russ it is amazing and going on a wall in our new house (whenever that happens!) Also, Peta who we went in with dressed up as a Masai and was scaring everyone on the street, she is one hilarious character!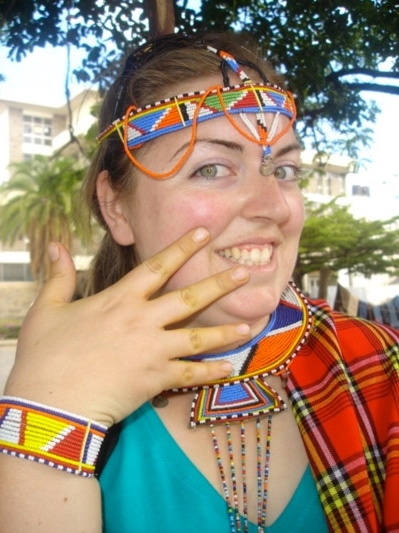 Peta in Masia outfit, with her carrot hands (yep we got potatos and she got carrots)
Mom: Hi Di
I love logging on and finding that you have updated the journal, well done it is fantastic and I am sure is enjoyed by many. Keep up the good work. You are doing amazing things, how good is it?
Love mom xxxxxxxxxxxxxxxxxxx