Rebecca's mum click here to get to her blog 
The morning started early, I went over to the house to meet with the architect again to see the progress of the plans. While I was waiting for Nick to arrive I made toast for the children - it was great to see them this morning cause I had not seen them for a while as I was at Mission 2 and also out for Peta's Birthday.
While I was in the kitchen I heard Mary preparing a bunch of the children to come with us on our outing today. It was a bit of a change - not much working - we went to Lake Bogoria. It is about 2 hours from Nakuru, MIA. Along the way it was so nice to see some villages with mud huts, local stalls as we passed through and also the many donkey, sheep, goat, cow and even a flock of ostriches. One of the things that really stood out to me was the villages that sold honey - seriously there were these wooden stalls with just jars (big and small and long and short and wide and thin) full of honey - as we passed they waved honey at us in the hope that we would stop and buy some.
Also we passed the equator! Which was a highlight for me! YAY …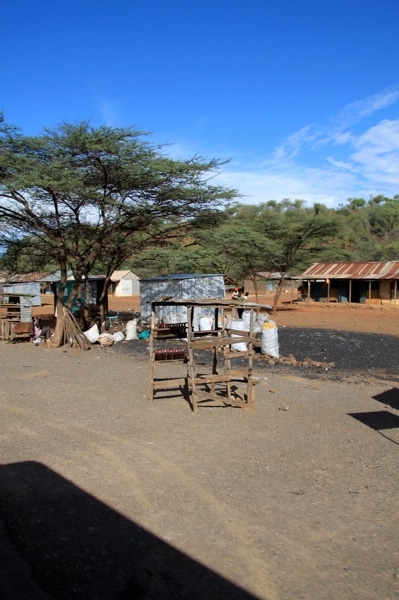 A honey stall along the way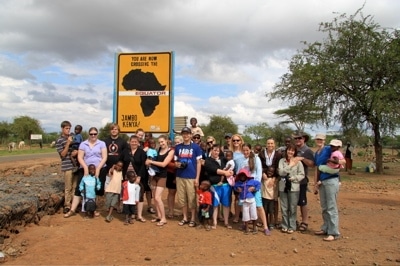 The group at the Equator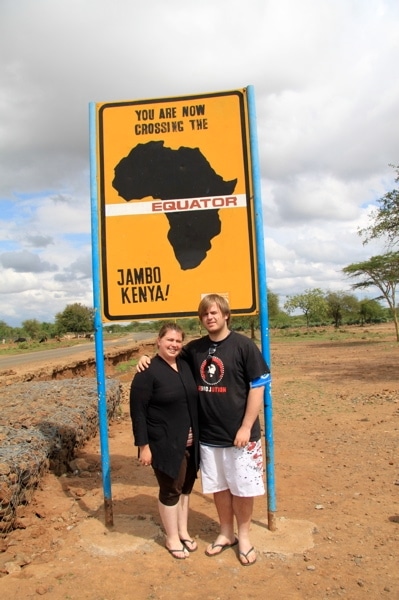 Neil and I at the equator
So we went to the hot pools at Lake Bogoria. Before we left we were all paired up with a little one that we had to look after for the day. It was filled with so much fun. Splashing, laughing, floaties, balls and lots of chatter. Firstly we swam in the hot pool - I could not get over how hot the water was. At one point I had to get out just for a rest. Then we all got out and all had lunch. The children where just over the moon with their chips and sauce. I had a really nice fish with chips, salad and spinach.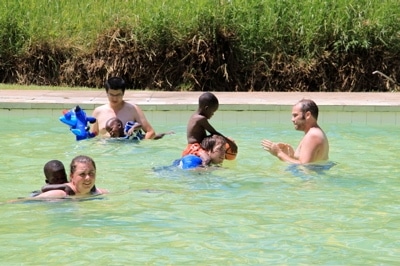 Me with Jacob (my buddy to look after), Ben at the back with Amos, Neil in the middle with Isaac, and Jason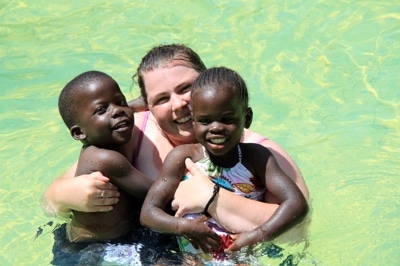 Jacob (Chucky), Me and Millie (Peta's buddy!)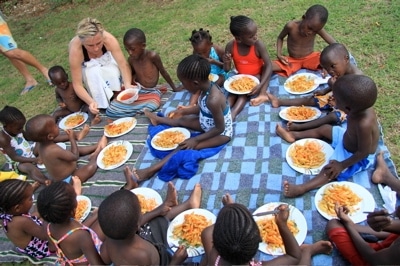 All the children with Mary serving the sauce - with their chips on the rug for lunch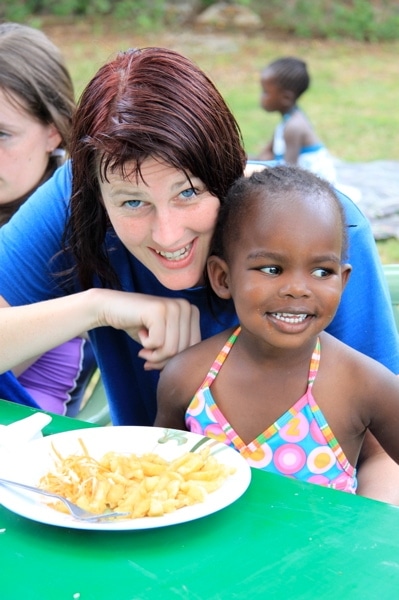 Alanee and Esther - buddies - eating their chips
After that we went over to the cold pools which was a great relief, much cooler, had a great little swim and then we piled back into the car. Jacob and I slept the entire way back, with Ben and Amos next to us, at one point I remember waking and seeing Amos lying with feet on Bec, body on Ben and head on me next to Jacob. We all made it home safe, thank you Tim for driving so well. I am going to be having a good nights sleep.
Russell: Did Neil find a toilet to try and flush on the equator? Clockwise or Anti-Clockwise?
Great to see you guys got a break from all the hard work.
See you soon!
Warren & Judith: Diane and all the team. Please have a happy and safe New Year start. Enjoy your celebrations and know that you are all in our prayers as you travel, learn and share the love of God.
Warren & Judith G.
Michelle: Hey Di and team, It's great to see all you have achieved, given and received Happy New Year. What a blessing of a way to spend your holidays. Wish I was there painting faces with you. Thankyou for sharing your journey, hoping all the best and praying for you guys. Lots of loveeee….. Michelle, Michael, Nadia and Bryony xx
Diane: Russell - that is exactly what Joel asked us to do? And you will both be pleased to know that the answer is ….. they have drop toilets - so no flushing!
Thank you so much Warren and Judith for your wishes. We are all well and are having a good New Year - we all wish you a good new year too!
Michelle, Michael, Nadia and Bryony, thank you so much for reading this and I really am excited that you know what we are up to. Thank you for your prayers and thoughts, I too am thinking and praying for you and your family :)
Lots of Love to all.
Thanks so much for reading and keeping up with the news.