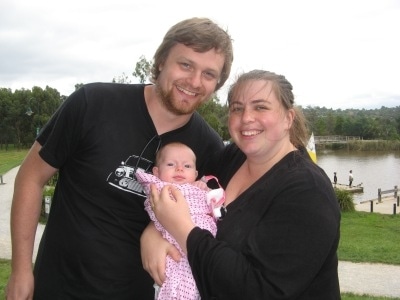 So, we are still here. We emerge as a family from the 3 month blur of a new baby. In fact I can say that the last 4 weeks has been so great I can't imagine doing anything else. Earlier I was thinking I couldn't get back to work sooner, but as I have enjoyed the playing, the smiling, the walking, the gurgling and the homemaking I am starting to fall in love with my 'new' mother life.
It has been hard at times, there is no denying it. But I am starting to begin to feel like my head is just stretching out and above the water and I can breathe. 
Russell my darling, this post is probably to you and I and just reminding us that although we now have a beautiful little daughter it is time for us to get back to our worlds of getting on top of housework, church time, together time and into the drift of family times. Our house is amazing and I am so comfortable in here that I can't imagine having our family anywhere else. 
Cheers to families.
Cheers to baby's.
Cheers to God and creation … ah beauty.
Tammi Fenwick: Hey Di,
I jump on your site every now and then (when I can find the time!) and was thrilled to see you're doing so well with beautiful Eve!
I am in Kenya, recently welcomed a beautiful 8 month old into The Upinde Centre and although he was totally unexpected (as we are not open yet!) it has been wonderful.
I will be taking tips from you for sure and am even going to ask my family to look into the cloth nappies you mentioned!
If you have the time, would you be able to email me some details on how to make the mat you were talking about? It sounds like it would be great over here, especially if we can do a good old DIY job!
Much love,
Tam
Diane Greenwood: If anyone wants to look at Tammi's organisation: http://tokenyaforever.org/
Oh Tammy …. wow it all sounds like you are on the way to making a beautiful family there in Mombasa. We will have to visit when we are there. We are planning to bring Eve over sometime.
I will be in touch via your email with loads of information.
If you send me your address I will see if mail gets through to you - I will send you a sample of some of the items.
Much love straight to you my friend and your little one Jay,
Di