New Years Eve
The day, not much different to Christmas, was a normal rostered day. This morning as I saw Neil drive the ute out the driveway off to do water tanks with Luke and Sarah, then I saw Tim driving the tractor off up the driveway, I had this real sense that we were all out and about on our little chores and getting things moving for MIA.
Eph 2:10-FOR WE ARE HIS WORKMANSHIP, CREATED IN CHRIST JESUS UNTO GOOD WORKS, WHICH GOD HATH BEFORE ORDAINED THAT WE SHOULD WALK IN THEM.
I had been given a list of photo's to take of the children for their sponsor packs so I was off to find certain children. When I went up to the house it was very quiet and it turned out the children had gone for a morning walk. Just the babies were in their room. Bethany, Alanee and Debbie were upstairs doing the handprints of the little babies for their sponsors so I sat their for a while.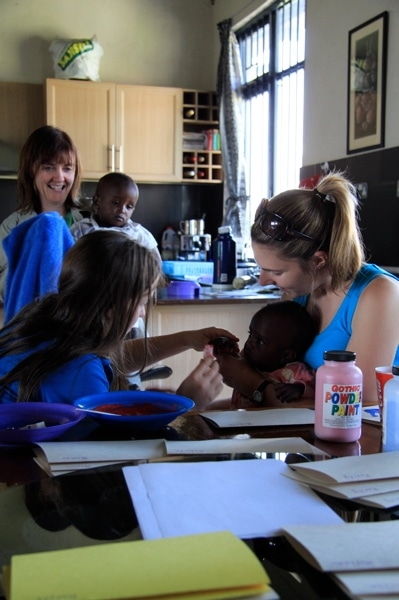 Rebecca and Bethany with Michelle trying to get her hand prints, Debbie at the back with Alex
It was only about 20 minutes later and Neil arrived back at the house. He had come back to pick me up to take me to do water tanks - YAY! Neil and I stacked the ute up with more stuff for another tank and we went off to do some tanking.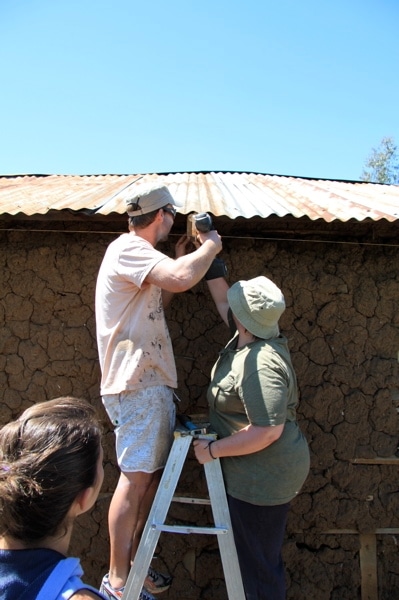 Luke and I attaching the gutter brackets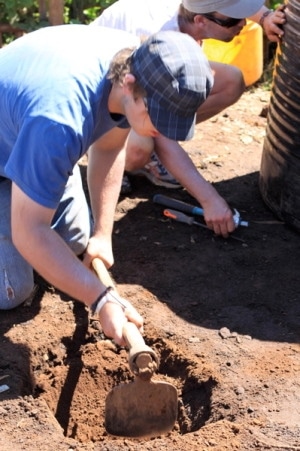 Neil digging the hole so that the bucket can fit under the tap for collection, Neil we will not forget the big root we happened to find in the ground and how the owner had to help us to cut it :)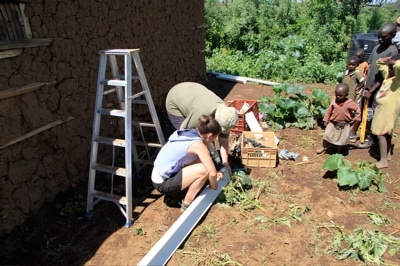 Sarah and I attaching the gutter end on
When we got back it was time to set up for New Years fireworks. Ivan and some of the boys had gone to get some firewood for a bonfire and then they played and tested some of the fireworks that we had for the night. This is one of those times you think - 'ah, boys and their toys!' they were loving it and I just prayed that they were safe.  
The bonfire was ready, the fireworks were set, Mission 2 had come over for he celebration and the kids were all seated ready for the show. It was amazing hearing the kids oooh and aaaah as the fireworks cracked here and there. There were great comments from some of the children like: "Do you think that God can hear these?" and "Do you think that God is getting burnt?" It was an awesome night apart from really missing my family I was in there having a ball (as I am sure that Neil, Jason and Tim were having fun too setting off the fireworks!)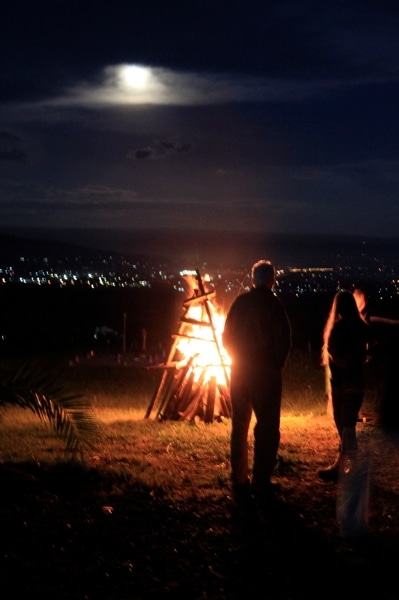 Bonfire with moon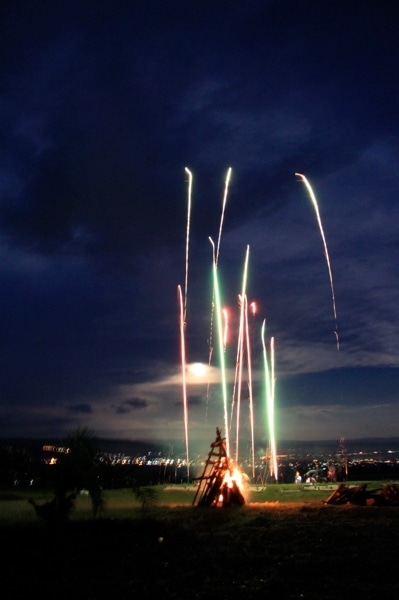 Bonfire with fireworks!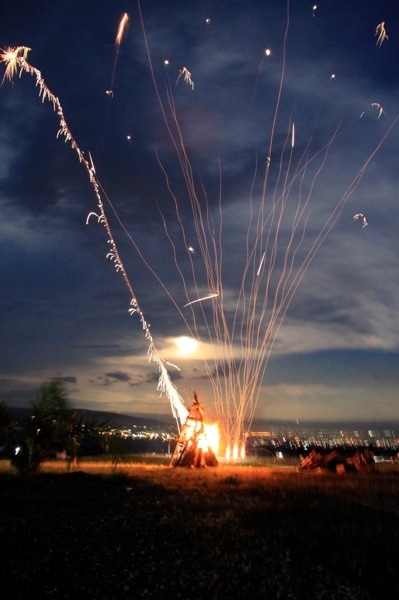 HAPPY 2010!
New Years Day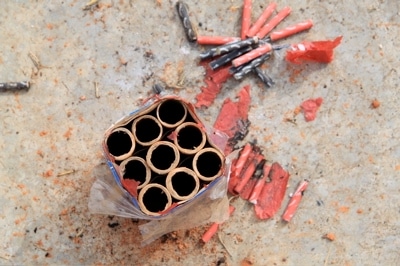 Morning after fireworks
So who thought it would be 2010 so quickly! It is worth mentioning that for a new year we had a new life today. One of the cows here at MIA gave birth to a little girl! YAY!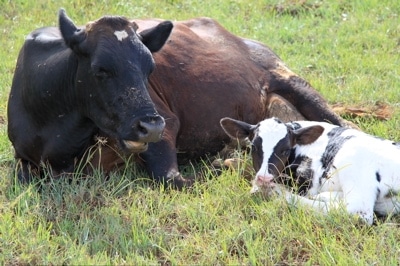 New calf and happy mum!
This morning we also had a special trip to a place called Kanana Knitters. It was an amazing place that was hard to leave empty handed. Yes we ALL spent up big, hard to say no to reasonably priced woolen items when they are fair trade and you can see the support the woman are getting. Rebecca and I have already contacted the Australian Distributor to see if we can get some at home.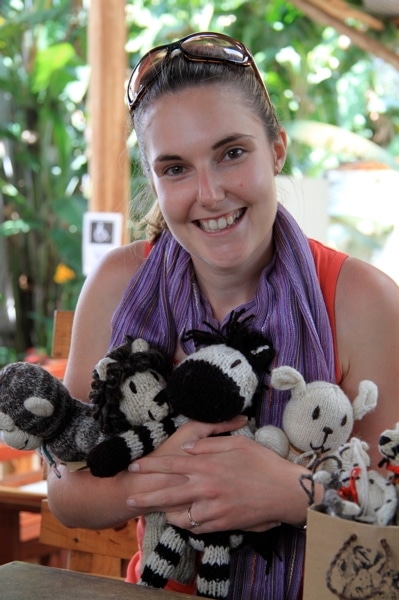 Rebecca with some of our purchases
All the wools are dyed with natural flowers - these are the flowers being dried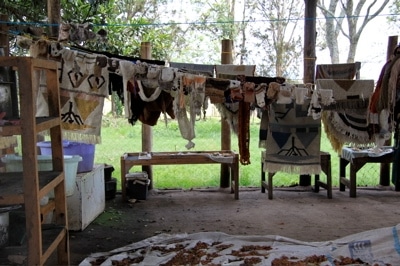 Some products being dried ready for the shop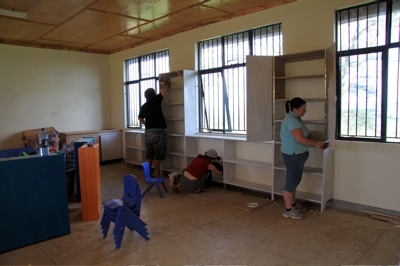 Neil, Debbie and Tracy undercoating Room 2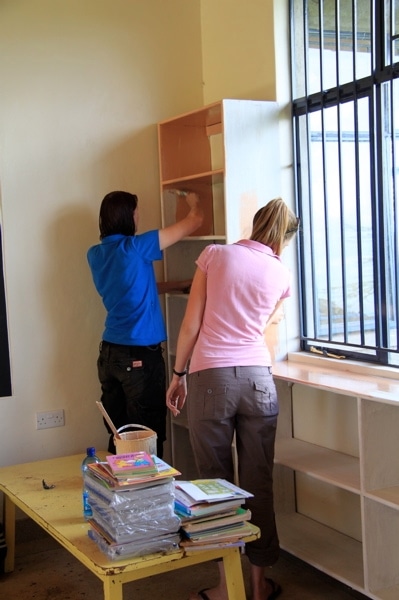 Alanee, Rebecca (and I) putting the top coat on the Library
When we came back we finished the day with some painting in the school. It rained pretty hard last night and the power went out in the middle of one of our prayers, it really ended the night on a very 'God' moment.
Kaye: Wow, the school looks like it's getting really close, and is really nice - must be exciting!
The fireworks look amazing, I'm glad everyone still has their fingers. Happy New Year to you all.
The dying of the wool is pretty cool, sounds like a great project.
Keep up the fantastic work!
Kaye.
Margaret Fraser: Thanks for keeping us updated on all the great things happening over there Di.
It is truly inspirational, and you all look so happy in the photos too.
God bless you all
Margaret Fraser and family
Margaret Fraser: Thanks for keeping us updated on all the great things you are doing over there, Di.
It is truly inspirational, and the photos are such happy scenes.
God bless you all.
Margaret Fraser and family
Diane: Hi Kaye, thankyou for the message and yes I am glad about the fingers too. The wool place was amazing and I am hoping that we can get some stuff to sell back at Glen Waverley.
Margaret and family - thank you also for reading. I am sure that we are all going to have inspirational stories when we get back - can't wait to share them all with you.
Thanks again for reading, it makes all the little times putting this up worth it. :)
Kelly: ohh i love the part about the lights going off in the middle of the prayer..
it goes back to my theory that God's first language is silence, because it is what EVERYONE has in common.. and with silence comes simplicity and quietness..
who needs light when you are praying to the Light, right!?
i heard that you got my 'book' of an email! hehe - now do you understand why it has taken me a while!?
there are so many people reading your blog! .. i get comments here and there, and its so nice to see what is happening and keep track of it!..
love you dearly!
God Bless
Your littlest sis x x x x
Nicole: Hi Di
Great to read what you have all been up to.
Say Hi to everyone for me.
Love Nicole
Ame: Hi Di!
Thank you for sharing about the adventures you're all having, it will be great to have you back so that you can really tell us everything. Keep your spirits up, know that you are walking in jesus' footsteps.
We're all still praying for you and the children of MIA. Amazing!
Please say hello to everyone from GWUC and give them hugs from me!
xx
Diane Greenwood: Oh Kel you have such wise words! Thanks for posting and reading all about our adventures. I miss you heaps, I will be emailing you back tonight, Love you.
Thanks to Nicole and Ame, yes I think that I enjoy getting all these up here for you guys to read. It means it will be so much easier when we get home to talk to you guys about it. Thanks for taking the time to read and to comment as well. Thanks for the prayers Ame, we
See you all soon.
xo