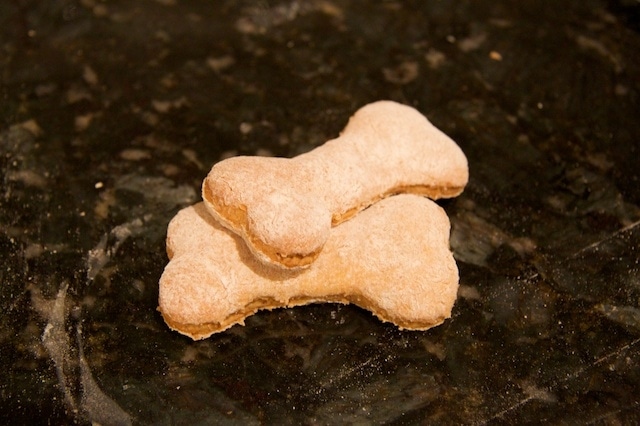 So, you know Russ and I use the ethical shopping guide to complete our shops. It is a little sad as we wonder the aisles with our iphones checking out the most ethical product - we often joke about the irony of the situation and deem that what we are doing is what we can at the moment. 
The more we talk about these things the more I realise, if anything, buying what you need and what is as ethical as it can be (cause nothing is 'ethical' in the Western world really!) is more about self control than anything. Take dog food and dog biscuits, our local supermarket doesn't stock anything that is in the book as ethical. Most things are tested on animals :( 
So I did some looking on the internet and found some great recipes for dog biscuits that I can make - buying products from the local shop that were on the ethical list! The best thing is this one can go in the bread maker and it is SO EASY.
I did adjust the recipe a little as I have heard that garlic is not good for dogs, so here is my version: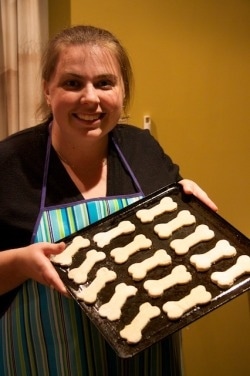 Bread Machine Dog Biscuits
3/4 cup - Beef, chicken or vegetable-broth (I used chicken!)
1 - Egg 
3 tb - Oil 
1 cup - Plain flour 
1 cup - Whole-wheat flour 
1/3 cup - Oats
1/3 cup - Wheat germ 
1/3 cup - Bran 
1/4 cup - Low fat milk powder  
1 1/2 ts Yeast
Place ingredient in bread maker according to manufacturer's directions and press "Dough" cycle. 
When machine beeps, remove dough to lightly floured countertop and with a rolling pin, roll dough out to 2 cm thickness. 
Using a dog bone cookie cutter (or any small seasonal cookie cutters), cut out dog biscuits and place on a lightly greased tray or one sprinkled with cornmeal. 
Re-roll scraps and repeat till all dough is used up. 
Place in a warm location and let rise 30 minutes. 
Bake at 160 degrees for 30 minutes until brown and no longer soft.
Place on a rack to cool. 
Store in an airtight container.
Viola! Just over 100 ethical dog treats.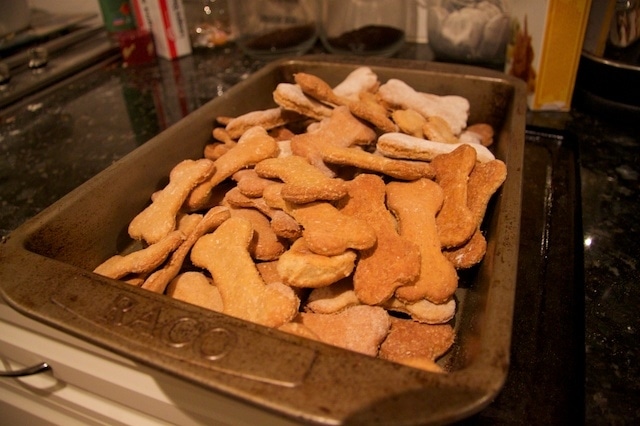 sonya: so what do they taste like?
Di: Although I could try them I have not :(
Stanley loves them, I gave them to my parents dogs and they both loved them too!
I gave a couple to Edwina as well cause it was Oscars' birthday and he liked them as well.
So far the dogs love them - I think that is good.
I want to try make peanut butter ones next - I am sure Stan will love them.
Kim: That's amazing. I love it!
darren: I've made a few different recipes of dog bikkies, will have a look for them and mail them over to you, Tilly loves it if I use vegemite instead of stock as well, while she's never been a huge fan of peanut butter.
Also got one or two recipes for home made dog food to replace canned stuff (although we tend to use an ozzie made natural dry food for the most part)
Diane Greenwood: Thanks so much Darren, I have posted your recipes as follow ups so that we have them together. I have not tried any yet, but I think that I will give it a go in a week or two :) Thanks again.
mom: Hi there
I have been wanting to do this since I saw yours so have got the recipe and will give it a go, although my bread machine is in storage so will give it a go by hand!!!
love mom xxxxxxxxxxxxx