So today we helped put together the Christmas Hampers that people all donated through Gifts in Action.
Nikki and I got up early and met Lillian (Mrs. Pastors) at the MIA General Store. We were given a list of families that had been identified to receive packs. We sat together and put together and measured the flour, sugar and ugali (maize). It was so nice to do some good work for others. Packing we reflected on the great Christmas dinners that we had and also how lucky we are to have most of the things that we were packing for families in need.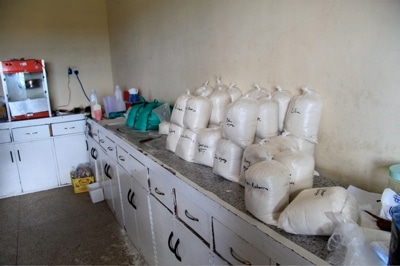 Ugali all measured out ready to go in the hampers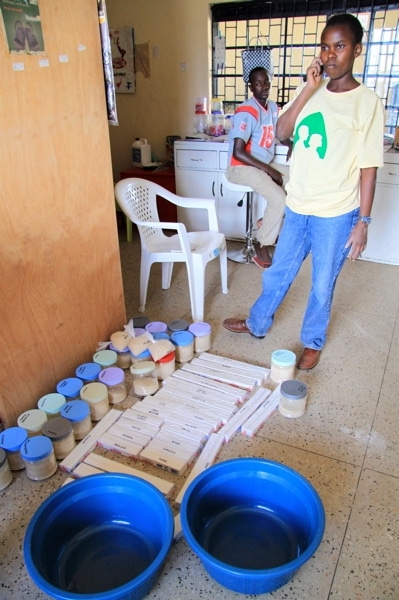 The sugar and all the laundry soap ready - Lillian (Mrs. Pastor)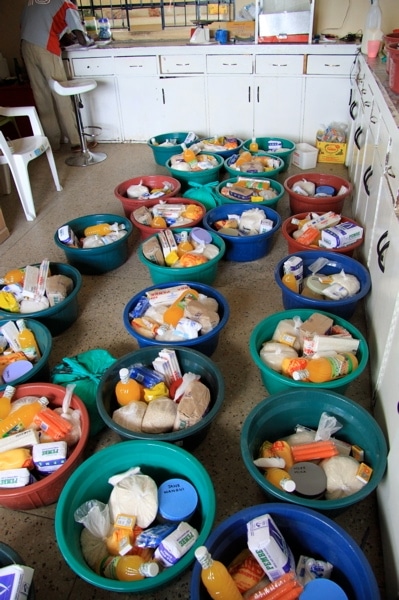 Family packs on the way to being ready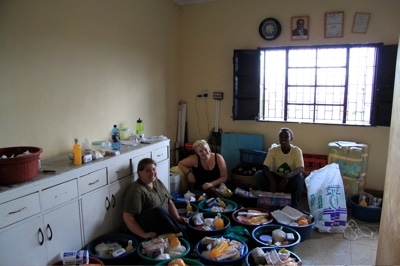 Me, Nikki, Lillian putting some last touches in the packs
The pack included: sugar, ugali (maize), flour, rice, cooking fat, cordial, matches, candles, laundry soap, sweets for the kids with biscuits, salt and tea. 
The last things we have to do is put the toys and the clothes. If the family has a small child we will add a baby pack, if they need a hygiene pack we give them on of those. 
After packing we wondered back to our mud hut and spoke about if my computer would play DVD's. Nikki and I got some DVD's in Mombasa. We came back to the mud hut and gave it a go and yeah it worked! The story gets better … the other night I saw Mary making popcorn in a pot with oil, so I thought why not. Nikki found some popping corn in the cupboard and I went and got some oil. We watched the movie and Nikki reminded me that we are here to live the opportunities we have right now.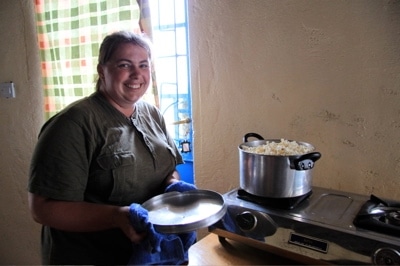 Popcorn - who needs a popcorn machine!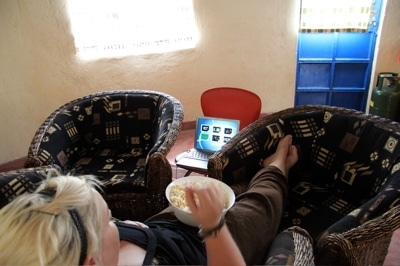 Nikki and I set up with the laptop and a DVD - we watched the afternoon away!
After movie it was a typical night of dinner routine, worship, getting kids ready for bed and then dinner for us upstairs. Nikki and I were able to eat tonight - yay - we had spinach on toast! Yum!
Now we too are off to bed.
Russell: Spinach on toast… hmmm, there's a reason I'm in Glen Waverley :)
Great to hear you're both getting better.
See you soon!
Neva: Ohh Russ… you make me laugh!
Loving the stories Di… You 2 are doing an amazing job. I bet you're looking forward to the rest of the contingent arriving shortly!!
Keep blogging!
Lots of love xx
Di: Thanks both of you for writing !
Yes Russ - wait till I bring the recipe home :P It was SO good. You are going to love it. I can't wait for the others to arrive! only 4 days to go. Only 3 days till they leave Australia!. Yay. They are all going to have so much fun. There is so much planned for them.
Love you lots.
Ame: Hello girls! Just read through all of your posts to catch up on all your news (it's nice to have internet access again!), and wow I am so inspired! I'm sure that God is taking you on a real roller coaster ride. You're always in my thoughts and prayers, and never lose your beautiful smiles! Nikki I'm so glad that you have found your place again, and that it's been a really special time for you to reunite with all the kids. Love you both so much!
Dave: I think I must be that bit older as I remember always making popcorn that way….I remember when the new popcorn makers came and they marketed them as being better for you cause you don't need the oil anymore!