Okay … so I have not had access to the internet for a couple of days. Here we go …
Boxing Day - 26th
This day was actually the Sabbath for MIA and so we had a Christmas Service that MIA invited the community to. Having the gates open and letting the community in was an amazing feeling. Everyone from Glen Waverley was asked to help in the service and we led some songs and also sung for the service. It was a great day and the Christmas message really focused on the hope that Christians have when they believe in the birth of Christ. A special service that ended with a prayer for a very sick baby that we all pray/ed for to get well.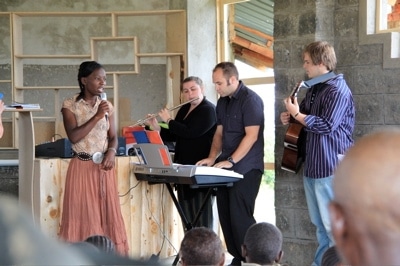 Anisha singing, Me on flute, Jason on Piano and Neil on Guitar - the Sabbath Christmas Band. We should also mention our Mandolin player Mary who was missing from this photo!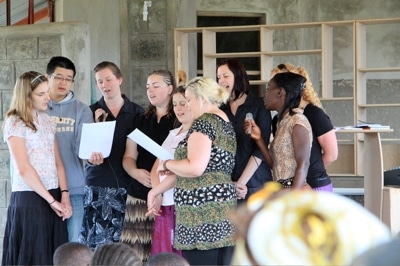 Our singers - Rebecca, Ben, Rosemary, Peta, Bethany, Nikki, Alanee, Kat and Anisha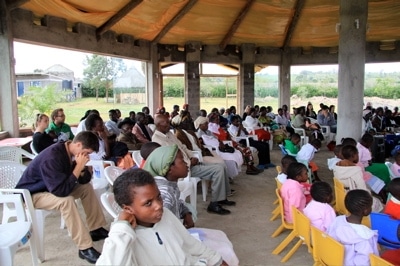 The community at Church, filled to the brim :)
We then had a very big lunch where we fed everyone who came to the service. It was again a special moment when we saw lines of people eating. We saw Ivan and Mary greeting people from the village. Amazing day and thank you MIA for having such open doors in this place.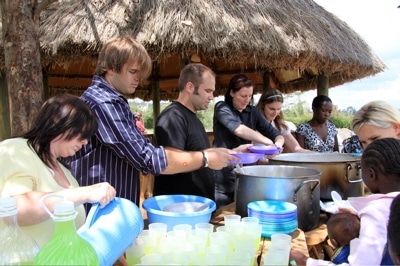 Tracey, Neil, Jason, Alanee, and Rebecca serving up lunch to everyone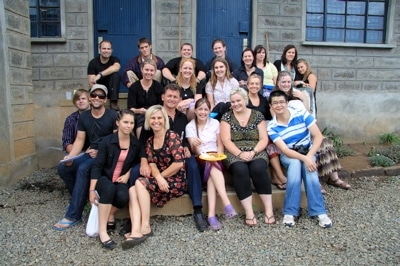 This is on the steps of the salon/shop, all the visitors along with Ivan, Mary, Sarah, Rachel and Sarah. This is the total crew that spent Christmas together - thanks for a Christmas to remember! 
Sunday Free Day - 27th 
Today was a roster free day and so we headed into the markets in Nakuru and we spent the morning collecting little goodies. We had lunch at Gilani's with Clinton, David and Samuel from the market. When we came back to MIA we spent the afternoon playing football. It was such a good day and spending time with each other was a time to catch up with what everyone had been doing.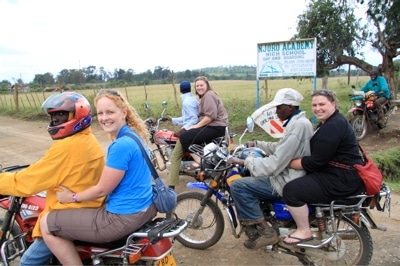 Kat, Peta and I returning from Nakuru on motorbikes!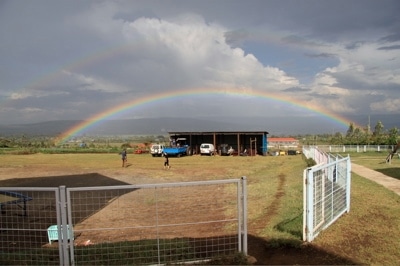 The football match under a rainbow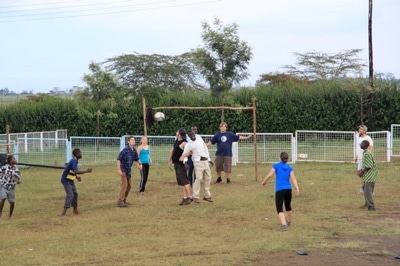 Jason going for a header!
Monday - 28th
Today was a great day! It was fantastic. It started with meeting with the Architect of Mission 2. We had a great discussion from the plans that we had last time. Ivan and Mary really know how these places run and it is so good to just chat through the planning. Thank for this opportunity and I hope that I am helping!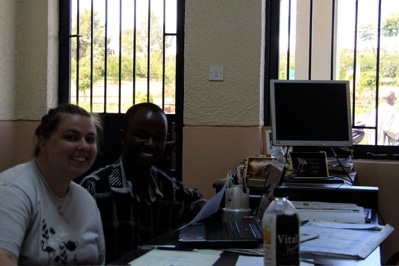 Nick the architect and I having a little meeting!
Then Rebecca, Alanee, Neil, Jason, Ben and I made our way to Mission 2. This place is a mission connected with MIA for some older kids. We were all able to play volley ball together, play football, play basketball and rugby. Rebecca and I did a puzzle with Joseph and Boyle and then we played card games with Margaret, Jacinta and Hannah. Alanee had an interesting game taught to her by some of the kids - a card game called AK47, Ace, King, 4 and 7 :) you can see Al grinning right now as she played right? It was just after some games we asked if there was a place to get some water. Dickens and Kevin took us on the most amazing tour of the town. As we walked up the dirt street we saw the life of the town just pottering away - donkeys on the side of the road, coal sellers, milk sellers and little stalls. On the way back we were taken to their school, Good Samaritan School, and they were so so proud of the place. Dickens told us about his schooling and he really is an amazing boy, coming from 3 years behind, now 2nd out of 500 …. WOW!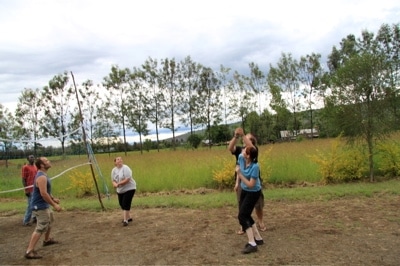 Volleyball - we stopped playing after we won 1 game! Ah natural talent.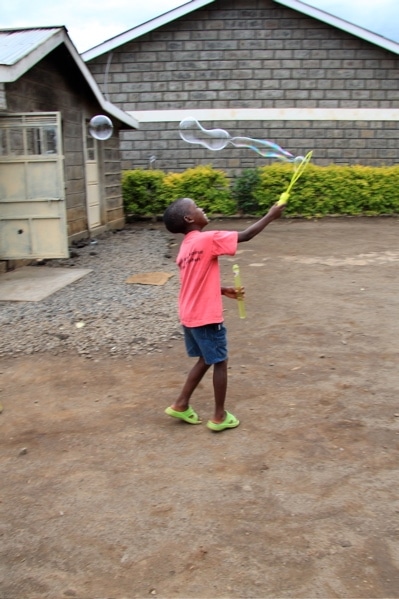 Kamau with bubbles!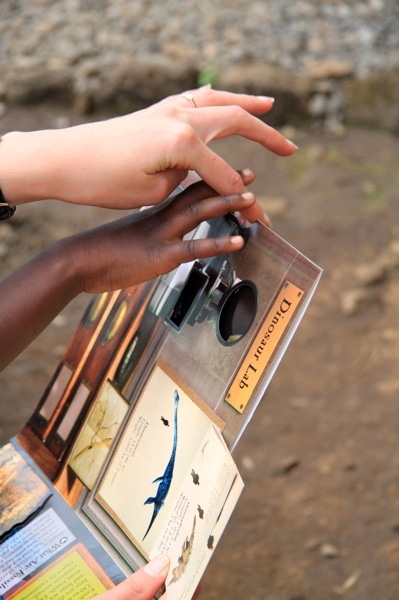 Flora and Rebecca reading a dinosaur book together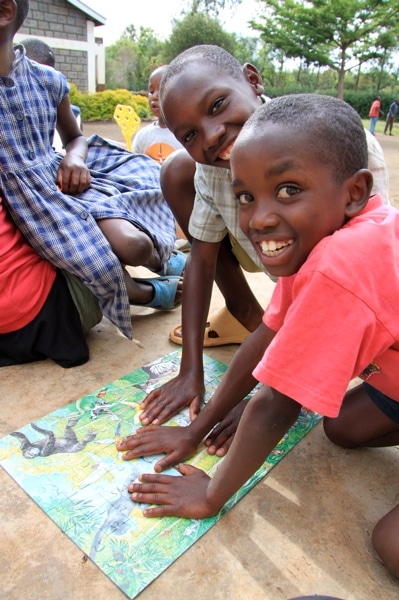 Joseph and Boyle with their finished puzzel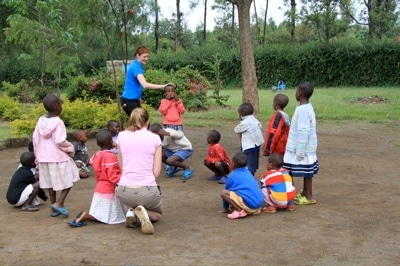 Mom: Hi there Di and Neil
What an amazing time you are having, and what good work is happening. I cry as I read your entries Di, they are beautiful. What you are doing is so what our family has been doing for years. Your great great , and great, and grand parents have walked similar paths and would be so proud of you both knowing that you are continuing the work. I wish Pappie could see you both, he would just sit and grin!!
We miss you both so much
love mom xxxxxxxxxxxxx
Belinda: Hi Di and everyone else,
It just sounds so amazing reading about what you have been doing. It sounds so inspirational and like you are making a real difference there. We are praying for you constantly and hope that you keep enjoying yourselves and that you stay safe.
Belinda
Kelly: This one has so many of those things that i would have loved to do!!! singing, face painting and giving them shoes.. it always reminds me of mother teresa and how she had her deformed feet because she always took the worst pair of donated shoes so the others could have the best. its nice to know that no one needed the bad pair because we were able to give the best!
it is so good to see that everyone enjoyed the things us much as i would have!!
it makes me giggle to see pictures of you and neil because i just pretend that its me!! haha!! its not that hard! :P hehe
love you!
god bless! x x x